About Us
Fortune House is a Chinese takeaway in Hove. Why don't you try our Pineapple Fritter or Chicken with Mixed Vegetables?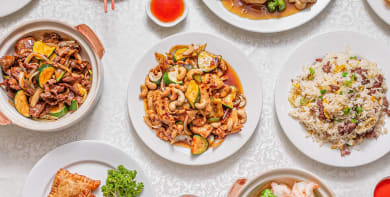 Reviews
133 reviews
Daisy
"The food was absolutely lovely, perfectly cooked and very flavoursome. Found my new favourite Chinese place!"
15/03/2020
Mark
"Once again an amazing meal as always"
22/02/2020
Mark
"Every experience is the same .. fantastic flavoursome food delivered on time. I've used the fortune house for years now."
15/02/2020
Francesca
"Best chinese takeaway around. The food is amazing. Thank you."
15/02/2020
Menu
Satay Sauce
Contain peanut
£1.70
Crab Meat & Sweetcorn Soup
£2.60
Hot & Sour Vegetable Soup
£2.50
Seafood Tom Yum Soup (Thai Soup)
Contain fish sauce & milk
£3.30
Chicken Tom Yum Soup (Thai Soup)
Contain fish sauce & milk
£3.00
Szechuan Special Set Meal A For 2 Persons
Sesame prawn
Crispy aromatic duck
Szechuan prawns
Crispy beef
Kung po chicken
Szechuan mixed vegetables
Special fried rice (large)
Prawn crackers
£35.00
Peking Special Set Meal B For 2 Persons
Spare ribs (Mandarin sauce)
Crispy aromatic duck
Crispy shredded beef
Mixed vegetables
Sweet & sour king prawns
Special fried rice (large)
Prawn crackers
£32.00
Set Meal C For 2 Persons
Chicken with green pepper in black bean sauce
King prawns with cashew nuts
Stir fried mixed vegetables
Egg fried rice (large)
£16.00
Set Meal D For 2 Persons
King prawn with mange tout
Sweet & sour chicken
Beef with mushrooms
Stir fried bean sprouts
Egg fried rice (large)
£20.00
Special Set Meal E For 2 Persons
Sweet & sour prawns
Spare ribs (Mandarin sauce)
Chicken with cashew nuts in yellow bean sauce
Stir fried mixed vegetables
Special fried rice (large)
£22.00
Vegetarian Set Meal F For 2 Persons
Crispy seaweed
Sea spicy aubergine
Bean curd in black bean sauce
Stir fried mixed vegetables
Plain boiled rice (large)
£18.00
Vegetarian Set Meal G For 1 Person
Mixed vegetables soup
Vegetarian spring rolls (mini) (4)
Stir fried mixed vegetables
Egg fried rice
£10.00
Set Meal H For 1 Person
Fried chicken in satay sauce
Sweet & sour pork balls (6)
Egg fried rice
£8.50
Crispy Fragrant Duck 06 Pancakes with Quarter Duck
Served with pancakes with cucumber, spring onions & Hoisin sauce
£7.80
Crispy Fragrant Duck 12 Pancakes with Half Duck
Served with pancakes with cucumber, spring onions & Hoisin sauce
£15.00
Roast Duck with Plum Sauce
£5.50
Roast Duck with Lemon Sauce
£5.50
Roast Duck with BBQ Sauce
£5.50
Roast Duck with Orange Sauce
£5.50
Roast Duck in Szechuan Style
£5.50
Roast Duck with Pineapple
£5.50
Roast Duck with Bean Sprouts
£5.50
Roast Duck with Green Pepper in Black Bean Sauce
£5.50
Chicken with Ginger & Spring Onions
£4.80
Chicken with Green Pepper in Black Bean Sauce
Hot
£4.80
Szechuan Chicken with Mange Tout
Hot
£4.80
Chicken with Mixed Vegetables
£4.80
Chicken with Mixed Vegetables in Szechuan Sauce
Hot
£4.80
Chicken in Szechuan Sauce
Hot
£4.80
Grilled Chicken Peking Style
Garlic
£4.80
Chicken with Cashew Nuts in Yellow Bean Sauce
£4.80
Chicken with Cashew Nuts Bamboo Shoots
With water chestnuts
£4.80
Sweet & Sour Chicken (Hong Kong Style)
£4.80
Chicken Balls with Sweet & Sour Sauce (10)
Contain gluten
£5.00
Chicken with Chinese Mushrooms & Bamboo Shoots
£4.80
Chicken with Bamboo Shoot & Water Chestnuts
£4.80
Chicken with Black Pepper Sauce
Hot
£4.80
Chicken with Satay Sauce
Contain peanut sauce
£4.80
Beef with Green Pepper in Black Bean Sauce
£5.00
Beef with Ginger & Spring Onions
£5.00
Beef in Mandarin Style
Hot
£5.00
Beef with Szechuan Sauce
Hot
£5.00
Beef with Mixed Vegetables
£5.00
Beef with Chinese Mushrooms & Bamboo Shoots
£5.00
Beef with Cashew Nuts in Yellow Bean Sauce
Contain nuts
£5.00
Beef with Bamboo Shoots & Water Chestnuts
£5.00
Beef with Black Pepper Sauce
Hot
£5.00
Sweet & Sour Pork (Hong Kong Style)
£4.80
Pork Balls with Sweet & Sour Sauce (10)
Contain gluten
£5.00
Roast Pork Char Siu Chinese Style
£4.80
Roast Pork Char Siu with Mixed Vegetable
£4.80
Roast Pork Char Siu with Mushrooms
£4.80
Roast Pork Char Siu with Spring Onions & Ginger
£4.80
Roast Pork with Green Pepper in Black Bean Sauce
£4.80
Barbecued Pork with Bamboo Shoots
With Chinese mushrooms in oyster sauce
£4.80
Roast Pork with Tomatoes & Pineapple
£4.80
Roast Pork in Szechuan Style
£4.80
Roast Pork with Black Pepper Sauce
Hot
£4.80
Stir Fried Lamb with Ginger & Spring Onions
£6.00
Stir Fried Lamb in Szechuan Style
£6.00
Stir Fried Lamb with Green Pepper
In black bean sauce
£6.00
Stir Fried Lamb in Mongolian Style
£6.00
Fortune House Special with Rice
£6.20
Fried Vermicelli with Mixed Seafood
£6.50
Fried Hofan with Mixed Seafood
£6.50
Fried Hofan with Mixed Meat
£6.20
Sweet & Sour Chicken with Rice
£5.50
Sweet & Sour Pork with Rice
£5.50
Sweet & Sour Prawns with Rice
£6.50
Chicken with Green Pepper
In black bean sauce with rice
£5.50
Chicken with Rice Satay
Contain peanut
£5.50
Chicken with Rice Curry
Contain peanut
£5.50
Thai Red Curry King Prawn
£6.00
Thai Red Curry Mixed Vegetables
£4.50
Thai Green Curry King Prawn
£6.00
Thai Green Curry Mixed Vegetables
£4.50
Phad Thai Mixed Vegetable
Special phad Thai style rice noodles fried with bean sprouts, spring onions, mixed with cashew nuts in Thai chilli sauce
£4.80
Veggie Chicken A. Green Pepper & Black Bean Sauce
£5.50
Veggie Chicken B. Szechuan Sauce
£5.50
Veggie Chicken C. Ginger & Spring Onion
£5.50
Veggie Chicken D. Oyster Sauce
£5.50
Veggie Chicken E. Mushroom
£5.50
Veggie Chicken F. Mixed Vegetable
£5.50
Veggie Chicken G. Pineapple
£5.50
Veggie Chicken H. Chop Suey
£5.50
Veggie Chicken I. Cashew Nuts
£5.50
Veggie Chicken J. Cashew Nuts & Yellow Bean Sauce
£5.50
Veggie Chicken K. Bamboo Shoots & Chinese Mushroom
£5.50
Veggie Chicken L, Kung Po Sauce
£5.50
Veggie Chicken M. Satay Sauce
£5.50
Veggie Chicken N. Broccoli
£5.50
Veggie Beef A. Green Pepper & Black Bean Sauce
£5.50
Veggie Beef B. Szechuan Sauce
£5.50
Veggie Beef C. Ginger & Spring Onion
£5.50
Veggie Beef D. Oyster Sauce
£5.50
Veggie Beef F. Mixed Vegetable
£5.50
Veggie Beef I. Cashew Nuts
£5.50
Veggie Beef J. Cashew Nuts & Yellow Bean Sauce
£5.50
Veggie Beef K. Bamboo Shoots & Chinese Mushroom
£5.50
Veggie Beef L. Kung Po Sauce
£5.50
Veggie Beef M. Satay Sauce
£5.50
Chicken Chow Mein with Black Pepper Sauce
Hot
£4.60
Char Siu Chow Mein with Black Pepper Sauce
Hot
£4.60
Beef Chow Mein with Black Pepper Sauce
Hot
£4.80
Mixed Vegetables Chow Mein
£4.20
Fortune House Special Noodles
£6.20
Stir Fried Mixed Vegetables
£3.80
Stir Fried Mixed Vegetables in Black Bean Sauce
£3.80
Stir Fried Mixed Vegetable with Cashew Nuts
Contain nuts
£4.00
Szechuan Mixed Vegetables
Hot
£3.80
Sweet & Sour Bean Curd
Contain bean
£4.50
Ma Po Bean Curd
With minced beef in chilli sauce
£4.60
Stir Fried Monks Vegetable
With bean curd & mixed vegetables
£4.50
Ginger & Spring Onion Bean Curd
Contain beans
£4.50
Bean Curd in Black Bean Sauce
Contain beans
£4.50
Bean Curd in Cashew Nuts in Yellow Bean Sauce
Contain nuts
£4.60
Sea Spicy Aubergine Fried with Pepper
With chilli sauce
£4.50
Fried Broccoli in Garlic Sauce
£4.50
Egg Fried Rice
Contain egg
£2.80
Mixed Vegetables Rice
Contain egg
£3.60
Mushroom Fried Rice
Contain egg
£3.60
Char Siu Fried Rice
Contain egg
£4.00
Chicken Fried Rice
Contain egg
£4.00
Shrimp Fried Rice
Contain egg
£4.20
Special Fried Rice
Contain egg
£4.20
Beef Fried Rice
Contain egg
£4.20
King Prawn Fried Rice
Contain egg
£5.30
Singapore Fried Rice
Contain egg
£4.30
Sweet & Sour King Prawns (Hong Kong Style)
£5.80
Grilled King Prawns Peking Style
Garlic
£5.80
King Prawns with Mushrooms
£5.80
King Prawns with Water Chestnuts
Bamboo shoots & cashew nuts
£5.80
King Prawns with Green Pepper in Black Bean Sauce
£5.80
King Prawns with Spring Onion & Ginger
£5.80
King Prawns with Mange Tout
£5.80
King Prawns with Chinese Mushrooms & Bamboo Shoots
£5.80
King Prawns with Cashew Nuts in Yellow Bean Sauce
£5.80
King Prawns with Salt & Pepper
Hot
£5.80
Squid with Salt & Pepper
Hot
£5.80
Squid with Green Pepper in Black Bean Sauce
£5.80
King Prawns with Tomatoes
£5.80
Fish Fillet Chinese Style
£5.80
Fish Fillet Szechuan Style
£5.80
King Prawns with Mixed Vegetable
£5.80
King Prawns in Oyster Sauce
£5.80
Sweet & Sour King Prawns Balls (10)
Contain gluten
£6.00
Crispy Meat Spring Roll
Large
£1.40
Crispy Vegetarian Spring Rolls (6)
Mini
£2.60
Thai Spring Roll (6)
Hot
Vegetable
£3.80
Sesame Prawn on Toast
Contain sesame seed
£4.00
Satay Prawn (4 Skewers)
Contain peanut sauce
£5.50
Butterfly King Prawns (6)
£5.20
Crispy Seaweed
Dried fish
£3.60
Crispy Wonton (6)
Contain shrimps
£4.00
Steamed Har Gow Dim Sum (5)
£4.20
Barbecued Spare Ribs (Dry)
£5.40
Barbecued Spare Ribs with BBQ Sauce
£5.60
Spare Ribs in Sweet & Sour Sauce
£5.60
Spare Ribs in Mandarin Sauce
£5.60
Spare Ribs in Honey Sauce
£5.60
Spare Ribs in Honey Chilli
£5.60
Deep Fried Chicken Wings with Barbecued Sauce
£4.40
Deep Fried Chicken Wings with Chilli Pepper Salt
£4.40
Deep Fried Chicken Wings with Honey Chilli
£4.40
Deep Fried Chicken Wings with Honey
£4.40
Crispy Shredded Chicken with Honey Chilli
£4.70
Chicken Satay (4 Skewers)
Contain peanut sauce
£4.80
Shredded Chicken with Salt & Pepper
£4.50
Starter Box
Satay chicken, spare ribs, vegetable roll, seaweed, sesame prawn on toast
£7.50
Crispy Noodle
Contain bean
£2.70
Salt & Pepper Bean Curd
Contain bean
£4.30
Seafood Mixed Platter
Sesame prawn on toast, butterfly king prawns, seaweed, Thai fish cakes & fried squid
£8.00
Contact Us
Find Us
83 Blatchington Road, Hove, BN33YG
We deliver to
BN1, BN2, BN3, BN41